Lake Bunyonyi Accommodation

Lake Bunyonyi is one of the stand out tourist attractions of Western Uganda and its accommodation is on a par with that of towns such as Entebbe and Kampala ~ with comparable prices! It's worth it though to spend a few days admiring the stunning views of Lake Bunyonyi with its range of activities from boat trips, trekking, bird watching, mingling amongst wildlife such as zebras and generally relaxing.

Accommodation providers are competing with other outlets in nearby Kabale so they all go that extra mile to ensure you get the most from your stay and hopefuly return or at least reccommend their premises and hospitality to others. Certainly prices are higher closer to the lake than in Kabale but it's well worth the little extra for the views alone and the food is also excellent with nicely prepared western dishes as well as local foods. Here is a guide to the best accommodation at Lake Bunyonyi.
---
Lake Bunyonyi Eco Resort



A very attractive hotel with restaurant on the enchanting Kyahugye Island surrounded by wildlife!
---
Bunyonyi Overland Resort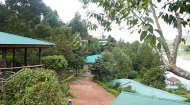 Accommodation is provided in comfortable safari tents, rooms, cottages and family cottages. On, and the resturant food is awesome. Our favourite place to eat when visiting Lake Bunyonyi!
---
---
Bushara Island Camp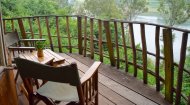 Offering comfortable furnished safari tents, cottages and a treehouse on Bushara Island.
---
Lake Bunyonyi Lodge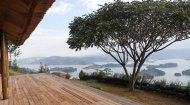 Lake Bunyonyi Lodge has 25 cottages and each self-contained cottage overlooks the islands on Lake Bunyonyi with a private deck for guests to enjoy the views.
---
---
Bird Nest Resort



Comfortable accommodation overlooking Lake Bunyonyi complete with outdoor swimming pool!
---
Entusi Resort



Located on a quiet peninsula and accessible by boat, the Entusi Resort states itis a unique destination for travelers while positively impacting the health and vitality of communities in East Africa through community investment and outreach and research.
---
---
Safari Resort



Located in a very peaceful, natural setting in the small village of Kagalama on the banks of Lake Bunyonyi.
---
Heritage Lodges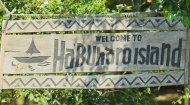 Situated on Habuharo Island, Lake Bunyonyi, which is some 20 minutes drive from Kabale and, of course, a short boat ride.
---
---
Itambira Island Resort



The Itambira Island Resort offers a choice of African-style roundhouses, a cottage with 3 bedrooms or tree houses set on stilts with balconies overlooking the lake with private bathroom facilities.
---
Kabale Guide



This page provides a guide to affordable accommodation on the banks or the islands of Lake Bunyonyi, however there are further accommodaton options in Kabale itself.
---
---