Rendezvous Cafe
Close to the hospital, Rendezvous Internet cafe & HotSpot offers fast internet access as well as drinks.
That's It!
Royal Supermarket
If self catering the Royal Supermarket Kabale offers fresh bread, frozen meat & fresh vegetables.
That's It!
Overland Resort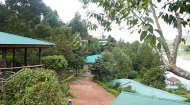 Our favourite place to eat in Kabale with the most excellent food to suite all palettes!
Cepha's Inn
A wide choice of things to eat ranging from Oriental, Western and the best of Ugandan produce.
Little Ritz
Close to Crane Bank, Little Ritz offers a menu of Western, Indian, Chinese and African dishes.
That's It!
Engagi Guest House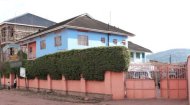 Close to the Post Office a restaurant with full menu of delicious European & African dishes at the budget end.
More Soon
We'll be providing more details
of places to eat in Kabale
as they become available.
That's It!
Kabale Town
Now find out more about the town of Kabale including things to do and places to stay and eat.