Nyakagyera Cave
Nyakagyera Cave is a forgotten tourist attraction nestling high on Kabaraga Hill close to Kabale.
Kabale Golf
A 9 hole golf course dating from the 1930s complete with bar and swimming pool and wildlife!
Ihimba Hot Springs
5 miles south of Kabale, the springs were valued by the local Bakiga people for their healing properties.
That's It!
Mountain Hiking
Mountain hiking is one of the most popular things to do in Kabale especially around the lake.
That's It!
Cultural Sites
There are a number of cultural sites reflecting tribal wars between the Buganda and Bunyoro Kingdoms.
That's It!
Arcadia Lodges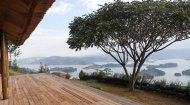 Walk up the hill to Arcadia Lodges for refreshments and the most spectacular views of the lake.
Kabale History
A history of Kabale from the Empire of Kitara, Mpororo Kingdom era to its current district status.
Kabale Town
Now find out more about the town of Kabale including things to do and places to stay and eat.