Outdoor Swimming
If you fancy a break from the Ugandan heat, plan a day trip to the city centre Big Fun swimming pool.
Igongo Centre
The Igongo Cultural Centre near Mbarara promotes the rich cultural heritage of south-western Uganda.
Horse Riding
The Rwekishokye Country Club near Mbarara offers horse-riding, swimming and other activities.
That's It!
Mbarara Golf
There is a decent size golf course in central Mbarara behind the Golf Course supermarket.
That's It!
Sanga Village
A cultural centre for the Hima tribe close to Lake Mburo and Mbarara featuring traditional ornaments and regalia.
That's It!
Rwizi River
Have a paddle, splash about or canoe in the Rwizi River that flows through the south of Mbarara.
That's It!
Mbarara History
A history of Mbarara from the Bachwezi/Kitara Empire to the Nkore/Ankole Kingdom and present day.
Mbarara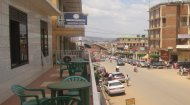 More to see and do in Mbarara including the best places to eat and accommodation options.