Swimming in Uganda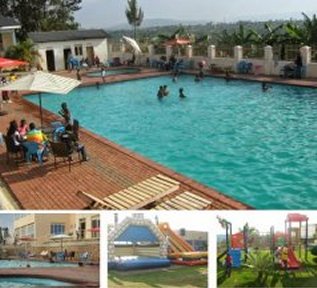 If you are looking to chill out and have a swim and sunbathe, why not pay a visit to the Big Fun Family Entertainment Centre close to the centre of Mbarara. Within the centre there is a proper swimming pool, a paddling pool, cafe/restaurant and play area for the kids including rides and bouncy castle. The views are also stunning as well and its all oh so very cheap! Big Fun also has facilities for private parties, wedding receptions and meetings. Its not all that easy to find and isn't really signposted but once you have been, you'll remember an enjoyable day out ~ it really is Big Fun!

Big Fun Plot 15A,
Circular Road,
Tank Hill Boma,
Mbarara,
Western Uganda

Tel: 07724442654 / 0772389305

As well as the Big Fun swimming pool in Mbarara there is also the Rwekishokye Country Club which is a bit quieter and also offers activities such as horseriding and camping. Located just 8km from Mbarara it makes a great day out and the food is good as well.