Ugandan National Anthem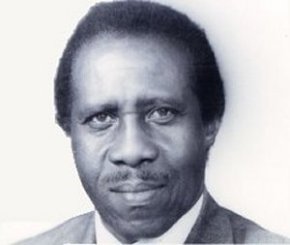 Below are the lyrics of the Ugandan national anthem in both Runyankole and English. We've also got a video of children singing the anthem (below) but in English! Shortly before independence from Great Britain in 1962 a competition was held to establish the new national anthem and none of the entries were deemed suitable so composer George Wilberforce Kakoma (above) was asked to step in and try his hand.

And he did. And his work was accepted. However, because what he came up with was one of the world's briefest national anthems, it's often performed twice in a row for longevity! Ironically it was because it was so short that the anthem was selected in the first place but was over too quickly at events like international football matches thus the repetition!
---
| | |
| --- | --- |
| English Words | Runyankole Words |
| Oh Uganda! | O Yuganda! |
| May God uphold thee, | Ruhanga akubangire, |
| We lay our future in thy hand. | Niiwe matsiko gaitu |
| United, free, | Tukwataniise |
| For liberty | Twiin'obusingye |
| Together we'll always stand. | Nitwija kuguma tuhamire! |
| Oh Uganda! | O Yuganda! |
| The land of freedom, | Ensi y'obusingye |
| Our love and labour we give, | Tukunde tukwehenengyere |
| And with neighbours all | Nabataahi beitu boona |
| At our country's call | Abara twiijemu |
| In peace and friendship we'll live. | Tugire obumwe nkabanywaine! |
| Oh Uganda! | O Yuganda! |
| The land that feeds us | Ensi eturiisa |
| By sun and fertile soil grown. | Ahabwomushana neitaka ry'orwezo |
| For our own dear land | Iwe nyamurungi we |
| We'll always stand: | Tubeere eruru |
| The Pearl of Africa's Crown. | Nkekiruunga ky'Afirika! |
---

Runyankole is a Bantu language spoken by around two and a half million people in south-west Uganda. Here is our free online guide to the basics of the lanuguage to help you get around while you travel in the region.
---

Tune into and understand the local use of English in Uganda often referred to as "Uglish". It can be confusing as English words can have a different meaning in the Runyankole speaking areas of Western Uganda!
---
---

Learn the words for each of the days and months translated into the local Runyankole language and English.
---

Download our free online Runyankople manual exploring common words and expressions in the Runyankole language.
---

Download our free Runyankole language app and brush up on your Runyankole wherever you are in the world and there's no ads!
---
---