Accommodation in Fort Portal

There is a range of good, affordable accommodation in Fort Portal from hotels to motels with swimming pools right down to renting or self-pitching your own tent in local campsites. Here we provide information about the most popular accommodation options in Fort Portal.

We tend to recommend that you book a short stay first, as you may come across other accommodation as you explore the delights of the area which better fits your budget or plans better. As ever, contact us if you know of other places to stay in Fort Portal!
---
Dutchess Hotel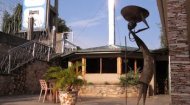 International food in Fort Portal including pizzas and crocodile burgers together with a 5 room hotel.
---
Mountains of the Moon Hotel



The hotel sits on 15 acres of landscaped gardens with wonderful views of the Rwenzori Mountains.
---
---
---
---
---
---
---
---
---