Places to Eat in Kabale

There are many places to eat and drink in Kabale and, in general, the standard of food is higher than in other Ugandan towns not least because Kabale caters for the tourist sector and it offers African, Western and Oriental dishes. Here we provide a guide to to the best and most popular places to eat and drink in Kabale from hotels and restaurants to cafes and resorts.

There other places such as local bakeries where you can buy pastries and pizzas but for probably the best places to eat in Kabale, take a trip to the resorts that run along the shores of Lake Bunyonyi ~ some of the best food in Western Uganda. As ever in Uganda, expect a long wait of around an hour between ordering and eating!
---

Our favourite place to eat in Kabale with the most excellent food to suite all palettes!
---

A wide choice of things to eat ranging from Oriental, Western and the best of Ugandan produce.
---
---

Close to the Post Office a restaurant with full menu of delicious European & African dishes at the budget end.
---
Rendezvous Internet Cafe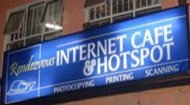 Close to the hospital, Rendezvous Internet cafe & HotSpot offers fast internet access as well as drinks.
That's It!
---
---
Royal Supermarket



If self catering the Royal Supermarket Kabale offers fresh bread, frozen meat & fresh vegetables.
That's It!
---

Little Ritz offers a menu of Western, Indian, Chinese and African dishes.
---
---