Places to Eat in Kasese

As with any town in Uganda, there are always numerous places to eat from "hotels" ~ with the word hotel in Uganda normally meaning somewhere to eat rather than accommodation as known in the west ~ to roadside street vendors with their Rolex's and other savouries. There are a few good places to eat in Kasese itself and our recommendations of the best are below.

All have favourable reviews from travellers known to us and all provide both western food such as chicken and chips as well as local foods such as goat stew etc. As ever, when in Kasese or elsewhere in Uganda, meals can take an hour to be served so order early if you are hungry!
---

A friendly cafe in Alexander Street in Kasese that serves coffees, cakes and western food.
---
Cafe Olimaco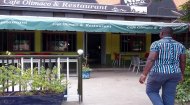 Located in Stanley Street, Kasese, Cafe Olimaco offers a range of western and local foods.
That's It!
---
---

A budget place to eat but good food in Margherita Street in Kasese opposite the Umeme Offices.
---

As well as these food outlets, the hotels in our accommodation page also have restaurants which you might want to chcek out if looking for good places to eat in or around Kasese.
---
---

Use this Google satellite map of the area to explore the town if you want to search for other cafes and places to eat in Kasese.
---
---