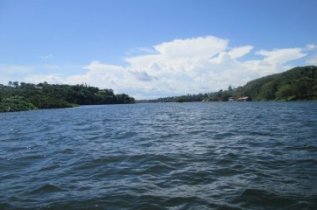 There has always been controversy over the source of the River Nile and, even as recently as 2013, the team from the TV programme Top Gear, postulated that the real source was a cluster of rocks north of Lake Victoria while others claim its source is in Rwanda or Burundi. However unlike Lake Bunyonyi in south western Uganda which was formed when lava flowed 8000 million years ago from the Virunga mountains blocking off the Ndego river at present day Muko to create a dam, thus forming the lake, Lake Victoria, which was deemed the source of the Nile by on August 3rd, 1858 by John Hanning Speke, is entirely different. Lake Victoria is a relatively young lake, perhaps some 400,000 years old when its many tributary rivers were dammed by an upthrown crystal block. However, even today, the bulk of its water is drawn from rainfall (with 30% coming from an underwater spring.) As such, and given that the actual River Nile, as it is known, flows from Lake Victoria, it is perfectly reasonable to state that Lake Victoria at Jinja is the true source of the Nile and the theories of others, attempting to prove otherwise, can be readily dismissed.

Visiting the source of the Nile is a worthwhile endeavour. Most will stay at nearby Jinja, which was just a small fishing village around the beginning of the 20th Century that bordered the River Nile at a location that provided large flat rocks for crossing the river thus facilitating trade (in fact the name Jinga is taken from the Baganda word for rocks 'Ejjinja' and adopted by the British colonists.) Today Jinja has geared up to the tourist industry and has the second largest economy in Uganda, not just because of tourism, but because, in a country where road infrastructure is poor, Lake Victoria provides easy access to towns and ports along Lake Victoria's 3000 mile coastline that also takes in Kenya and Tanzania.

There are many places to stay in Jinja of varying quality but if you stay at the top end at somewhere like Jinja City Hotel, you can expect to pay around 15UK for a double room including a rather dubious breakfast ~ "No thanks, I don't want that, that or that, I'll just have two eggs." "No, you can have one egg." (Customer service for you!) There are many other places available from around 4.00UK a night but perhaps the City Hotel has the best location as it's on the high street whereas other comfortable hotels require transport to the town centre. You can then either then take a "special" taxi and ask for the source of the Nile which will probably take you to Recreation Beach where you not only pay for entry but pay again for a boat trip or wander along Main Street until you reach its end, then walk down Busoga Avenue until you reach Nile Crescent where you will find some more rustic and much cheaper boat trips with an guide eager for you to have fun and probably be the only person or family in the boat. We recommend the latter! It's less touristy and more engaging.

As the boat takes you to the source of the Nile, your guide will explain how the 1954 construction of the Nalubaale Power Station, formerly and locally known as Owen Falls Dam (but don't take photos or you risk arrest), has led to a rise in water levels at the source of the Nile and this has been exacerbated by further damming works, submerging some islands and causing havoc with established facilities such as toilets and a gift shop etc (see the gallery photos below compared with the video.) After your boat trip to the source of the Nile and surrounding area which takes around 1.5-2 hrs, grab a special and ask for the Itanda Falls, (note NOT the Bujagali Falls which have been reduced to little more than a ripple due to the dam's construction and expansion.) The road's a bit rocky and uncomfortable but the falls themselves are spectacular as seen in the gallery photos. Here you can undertake white water rafting (extreme white) however for foreign nationals its very expensive (but the adventure of a lifetime) or take a more sedate island cruise by boat for a few hours. Be careful though, you have to pay to enter then everyone will want financial recompense for guiding you.)

On your way back, probably hot and thirty, call in at the Bujagali Falls, where you can watch bungee jumping and take in a drink at the bar. If, after all that excitement you want a good meal, call in at the Space Cafe in Jinja, one of the few places in Uganda where you can order a western style meal such as burger and chips and have it delivered within 15 minutes (they also offer good accommodation) and reflect on your visit to the source of the Nile! For those with some extra cash in their pockets you can also take a one hour flight over Jinja and the source of the Nile in a small aircraft which seats up to three passengers.
---

There are a number of lakes in Western Uganda, a landlocked area of Africa, the most stunning of which is Lake Bunyonyi outside Kabale. Here we offer our full guide to the main lakes in Western Uganda.
---
---

The National Parks in Uganda form the backbone of the tourism industry. Check out our guide to the main parks of Western Uganda and others within easy reach of the region here.
---
---