Things to do in Kasese

You can wile away a few hours or days in Kasese before setting off on your next adventure. Certainly the Rwenzori Arts Centre, some seven miles north of the town, is worth a visit as it features sculptures cast in bronze by the Rwenzori Founders or carved in Moroto soapstone and marble.

The Rwenzururu Palace is worth a brief nod whilst the Katwe Village Tour has mixed reviews with some describing it as a "terrible rip-off" whilst others have enjoyed exploring the lives and homestays of local salt workers. Perhaps the most popular of the things to do in Kasese is to take a boat ride (above image) on the Kazinga channel; a wide, 20 mile long channel that connects Lake George and Lake Edward.
---

Exhibits a selection of bronzes produced by the foundry as well as other creative works.
---

A local tour including what the villagers come home to after a hard day harvesting salt on the lake.
---
---
Rwenzururu Palace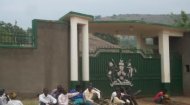 Site of the killing of more than 100 people in November 2016 during the climax of long-standing tensions between the government of Uganda and the Rwenzururu Kingdom, the home of the ethnic Bakonzo community.
That's It!
---

A Google satellite map of Kasese showing the town and it's tourist attractions. Zoom in to explore places of interest!
---
---

More things to do around Kasese including Kibale and Queen Elizabeth national parks as well as the Rwenzori Mountains National Park.
---
---