---

Whether you be a seasoned traveller or undertaking your first trip abroad, it's always sensible to be prepared for your journey and review your personal safety arrangements, probably just as you would if undertaking a trip in your home country. Whilst this list is not exhaustive, here we present some basic travel advice to help make sure your travel to Uganda runs smoothly and to plan! Plan your flight many months in advance to get the best value as flight tickets shoot up in price around peak periods. Also don't assume charity flights will be cheaper; they may offer you more luggage and flexible dates but can cost £100s more than other airlines. Ensure you have proper insurance to cover medical expense (including sufficient cover to repatriate you if required and to cover unexpected COVID restrictions) and also cover missed flights due to breakdown of transport links to the airport both on outward and inwards journeys. Most visitors are now required to purchase a visa online before entering Uganda. You can apply for a visa here: https://visas.immigration.go.ug/. At time of writing the entry visa fee is $50 and this is also paid online at the time of application however please remember that the visa process will only be confirmed on arrival at the border (where you will also be asked for your Yellow fever certificate of vaccination). Also check for the latest COVID entry and exit requirements as they can change frequently.

Prepare to spend more money than you have budgeted for! You are sure to make friends whilst in Western Uganda and, because there is so much to see and do, you are likely to be invited on trips you had not planned. None are expensive but the cost can add up! Remember to pack sun cream and some deet to prevent being bitten by mosquitoes. Whilst your room will probably have mosquito nets, its also a good idea to take a plugin repellent or, even better, a battery operated one, as often the power is down as well as keeping spray handy for use during the day. This will offer you greater protection. Also remember to get your mosquito tablets before you leave and take as prescribed. Packing a lightweight rainproof kagoule or similar to carry around with you is always a good idea because although Uganda is generally hot, when it rains we're not talking drizzle but a torrential downpour and it comes from seemingly no where. One moment blazing sun, the next the wind picks up, all goes quiet then the local look up and state "the rain is coming." Don't get caught short especially when out walking in the mountains.

There are mixed views on eating locally prepared roadside foods. In Kampala there are regular outbreaks of typhoid when pots, pans and food are washed in water contaminated with urine and faeces. Our general advice is not to purchase and consume foods from the roadside or any food outlets where hygiene standards appear lacking. Whilst boiled water is normally safe, we recommend buying bottled water to drink ~ its only around 25-30p a litre and will help prevent any stomach upsets. Calling abroad from a mobile/cell phone can be expensive so invest in a local SIM card which can easily be picked up for less than a pound, but take your passport with you when buying as all SIMs have to be registered in Uganda. The process takes around ten minutes.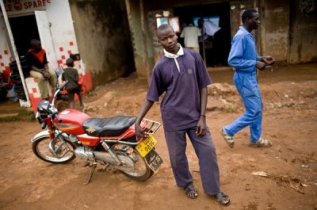 Check out our Uganda culture section here and remember that while on the surface there appear to be many similarities, Ugandans, particularly those in rural areas, have established ideas and ways of doing things which are not always a comfortable fit with outsiders (particularly the role of women in the family and wider society) ~ so remember, you are the outsider and just as you may not welcome a visitor to your country who is staying for a few weeks trying to overturn your culture's established ways, the same applies to Uganda. It's okay to explain differences, just try not to lecture or become a cultural missionary! One other point on culture, rural Uganda in particular is very conservative and inappropriate (short cut skirts, shorts etc) can cause upset and distress particularly to the older generation. If you want to make statement about "western values" then please consider visiting a country where those values are accepted instead! Seriously. Also, "whites" (Muzungos) are still a rarity in this part of the world and probably everything you do will be repeated throughout the village and wider community where you will be staying so please bear that in mind when drinking and displaying excessive behaviour. Generally the children are very friendly, although unfortunately because of well meaning outsiders (normally volunteers who feel the need to give freely), some have started begging and will demand shoes and money and other gifts because others have received them from volunteers in the past or maybe from the group you are currently staying with. Please don't give and be aware that in some places, giving money, food or gifts to street children is a criminal offence for which you will be arrested, charged and detained.

One thing to be mindful of when visiting Western Uganda is travel. Buses only depart when full, even if you have to wait for hours; fourteen seater minibuses (the local method of travel) can be crammed with up to twenty or more people and a family car sized taxi can have four people sitting in the front and six or seven in the rear. When making short journeys, most will hop on the back of a boda boda motorcycle, the preferred and easiest means of travel in Uganda. These are generally safe but consider what you would do if there was an accident and you broke an arm or leg because of an errant driver coming in the opposite direction. It happens. Frequently! Your best bet is to arrange a "special" taxi giving you exclusive travel ~ but negotiate hard on price. Because you are a muzungo you will be considered rich! Once you have secured your driver, arrange a return time as they will probbaly have children to see to but most will also enjoy the day out so involve them in your schedule and don't worry about making minor changes. Ugandans in the main are overly friendly and accommodating.
---

Use our currency converter to see what your money is worth with some advice about using ATMs in Uganda.
---
---

Explore more about travel in Western Uganda with this interactive Google satellite map of the country and zoon in on areas of interest.
---
---