Accommodation in Kabale

If you are spending time in Western Uganda it would be a good idea to ensure Kabale is on your itinery as it's close to the nearby stunning Lake Bunyionyi. There is a wide range of accommodation in the vicinity from hostels to guest houses and hotels ranging from basic to luxury, resort accommodation. So, whatever your budget, you're sure to find something to fit your needs.

On this page we provide a guide to some of the best accommodation in Kabale with accommodation options that have their own websites so you can book in advance. There are many other small guest houses etc however if they don't have a website where you can book online, you always run the risk of turning up only to find the accommodation is full. If you know of other accommodation in Kabale with their own sites, please contact us.
---
Overland Resort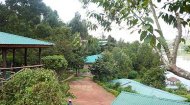 Accommodation is provided in comfortable safari tents, rooms, cottages and family cottages. On, and the restaurant food is awesome!
---
Cepha's Inn



Offers numerous rooms complete with swimming pool, restaurant and bar next to the golf course.
---
---
Engagi Guest House



Close to the Post Office a restaurant with full menu of delicious European & African dishes at the budget end.
---
White Horse Inn



Located on Makanga Hill, in the centre of Kabale town, just off the main road to Kisoro district.
---
---

All rooms in this hotel are equipped with televisions with satellite TV, telephones and are self-contained.
---
Accommodation at Lake Bunyonyi



On this page we provide a guide to accommodation in Kabale itself, however Lake Bunyonyi is nearby with even more accommodation with breaktaking lakeside views.
---
---