Kyahugye Island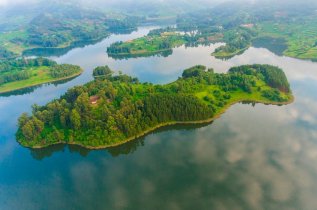 Kyahugye Island is one of the most popular islands on Lake Bunyonyi as it's just a few minutes by boat from the mainland which can be arranged through the resorts around the lake or just turn up on the shore. One of the reasons for its popularity is that it's the only island on Lake Bunyonyi with wildlife including zebras, impala and waterbucks. Now, you may be wondering how they got there and why they chose Kyahugye Island as their sanctuary. Perhaps it was raging fires around the lake and they swam there for safety? Perhaps the rising waters of the lake stranded them there? Nope. They are on the island at the behest of one Emmanuel Tumusiime-Mutebile from Kabale. He purchased the island, installed electricity, built an eco-resort with several lodgings that are accompanied by a restaurant equipped with a terrace overlooking the far side of the lake (see link below) and then purchased a blue monkey, Ugandan kobs, impalas and zebras from the Uganda Wildlife Authority to make Kyahugye stand-out as a destination for tourists from the other islands on the lake, as you do.

Sadly, some of the animals were none too impressed with their new living arrangements and the zebras, not used to life on a small island, couldn't graze or move around enough, so all but one drowned in their search for freedom. Such madness was not unknown on the island for Kahugye means 'madness' in Rukiga stemming from the ancient legend that hundreds of years ago one man lived on Kyahugye island with his twelve wives. Again, as you do. As was tradition in those days, the man appeased his ancentral Gods by annually sacrificing one of his cows but, given that the island itself is only thirty-five acres of land in total, soon ran out of cows to sacrifice. This went down none too well with his ancestral spirits who claimed the man's sanity as a punishment, leading to the island been referred to as 'the Crazy Man's place', hence Kyahugye.

Today the island is well worth a visit. Whilst well-maintained, it has has kept its original integrity with overgrown pathways etc that give a real sense of adventure when tracking down the friendly animals which you can get up close to. Obviously this all costs to maintain so you need to go through the Eco Resort on arrival and pay a small entrance fee but for that you are provided with a guide who will ensure you come across the animals so its a price worth paying! We would recommend spending an hour or so on the island, longer if eating and the boat trip there and back will set you back around £25 regardless of the number in your party so a visit to Kyahugye Island makes for a good half-day experience. Especially if you have twelve wives.
---

If visiting Kyahugye Island on Lake Bunyonyi you may wish to eat or stay over by staying at Lake Bunyonyi Eco Resort surrounded by wildlife!
---
---

Google satellite map of Lake Bunyonyi showing the lake and its islands. Zoom in on the map to explore places of interest in and around Lake Bunyonyi.
---

More about other islands like Kyahugye on the beautiful Lake Bunyonyi deep in Western Uganda, its main tourist attractions, things to do and places to stay.
---
---