Punishment Island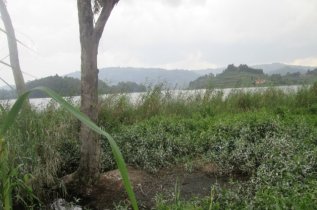 Akampene Island on Lake Bunyonyi is better known as "Punishment Island" given its history of unmarried pregnant girls being abandoned to their fate there by scandalised family members and villagers of the local Bakiga ("people of the mountains") who lived in the area having arrived from Rwanda in the 17th and 18th centuries, though, as ever, the lads who get the girls pregnant in the first place went unpunished themselves.

The island is little more than a 215 square foot raised muddy platform that protrudes from the lake and is currently being eroded by the gentle lapping waves that float across Bunyoni. It is home to just two trees, one of which is long dead. Those expecting to see an island strewn with bones and skeletons of lost girls will find none. In reality whilst girls were ritually humiliated and left there to die, many attempted to swim back to the mainland but perished in their attempts as few Ugandans can actually swim.

Others were saved by men without worldy goods looking for a wife without a "bride price" (money or property paid by the groom or his family to the parents of a woman upon the marriage of their daughter to the groom), whilst on other occasions the young man who got the girl pregnant in the first place would row out to save her and they would escape together setting up a new life far from the community that punished the girl in the first place. The practise ended in the mid-twentieth century as missionaries moved into the area however there are still survivors alive today to tell their stories.
---

Google satellite map of Lake Bunyonyi showing the lake and its islands. Zoom in on the map to explore places of interest in and around Lake Bunyonyi.
---
---

More about other islands like Kyahugye on the beautiful Lake Bunyonyi deep in Western Uganda, its main tourist attractions, things to do and places to stay.
---
---