Lake Bunyonyi Guide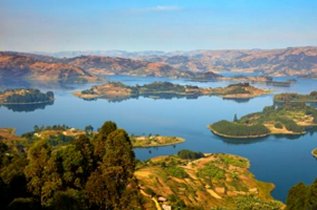 Lake Bunyoni can be found in south-western Uganda just south of Kabale. At sixteen miles long and just over three miles wide it was formed after volcanic eruptions some 8000 million years ago that blocked what is now the River Kabaga creating effectively a dam and the waters from the river then filled the valley to form the lake we see today. Lake Bunyonyi, with Bunyoni meaning "Place of many little birds", is home to twenty nine islands a few of which are inhabited and some turned over to tourism, particularly Eco Island. On these pages we share with you all about lake Bunyonyi, things to do around the lake, Lake Bunyonyi accommodation and resorts and how you can get involved in the community.

If you know of other tourist attractions in or around Lake Bunyonyi get in touch and let us know using our contact form to we can update this travel guide.
---
Lake Bunyonyi Tourist Attractions



An online guide exploring the main tourist attractions in and around Lake Bunyonyi in south-western Uganda in pictures, video and information.
---

A guide to some of the best things to do in and around Lake Bunyonyi from boat trips to local places of interest and sightseeing.
---
---
Accommodation at Lake Bunyonyi



A guide to the best accommodation in and around Lake Bunyonyi from hotels, lodgings to guest houses to campsites by the lake and on the islands.
---

Google satellite map of Lake Bunyonyi showing the lake and its islands. Zoom in on the map to explore places of interest in and around Lake Bunyonyi.
---
---