Things to do in Entebbe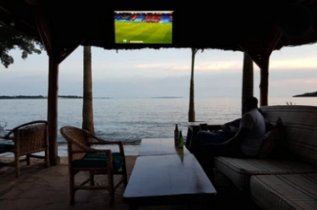 Spend a few days relaxing in Entebbe on arrival or set aside a few days to enjoy its delights before you leave Uganda. Its a lovely town with many things to see and do from taking in a game of golf, visiting the historical site of Kigungu where the first Catholic missionaries arrived in Uganda in 1879 and where a new church stands today together with a monument, or take in the splendour of the State House, home to the Ugandan President.

There are also some fabulous beaches where you can simply relax, eat or drink or take in a boat ride, or for the more adventurous, jet skiing. We share more things to do in Entebbe on our tourist attractions page.
---

Visit one of the two official residences of the President of Uganda with the other at Nakasero in Kampala.
---

Take a trip over to the archipelago of the Ssese Islands from Entebbe and stay at the Brovad Sands Lodge.
---
---
Golf Course



The oldest golf course in east Africa also features 2 tennis courts, 1 basketball court and a cricket oval.
That's It!
---
Kigungu



Kigungu, found behind the airport, marks the landing of the first catholic missionaries in Uganda in 1879.
That's It!
---
---

This page provides a guide to things to see and do in Entebbe however there are other tourist attractions that are showcased on this page.
---

A Google satellite map of Entebbe showing the city on the Lake Victoria Peninsula and it's tourist attractions. Zoom in to explore places of interest and things to do in Entebbe!
---
---