Entebbe Tourist Attractions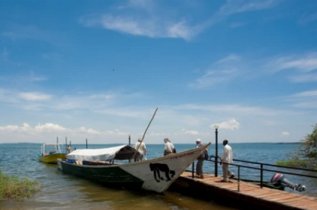 We love Entebbe and it's our preferred stop off point when travelling to and from Uganda having some great attractions, places to stay and eat. There are a number of things to do there from a gentle walk along the shores of Lake Victoria to a visit to the Uganda Wildlife Education Centre (Or Entebbe Zoo) where you can see close up animals you may never get to witness on safari, the reptile village which all kids seem to adore, or you can take a boat trip to Ngamba Island to see the Chimpanzee Sanctuary and interact with the orphaned primates.

It's also a great place to get some shopping in at Victoria Mall where there are a number of quality fast food outlets including a KFC, although chicken is not always available (!) but certainly the fastest we have ever ordered then eaten cooked food in Uganda, minutes rather than hours. You can also take in a movie there with all the latest releases. On this page we showcase some of Entebbe's best tourist attractions.
---

Entebbe Zoo, or the Uganda Wildlife Education Centre is a great place to see and learn about the animals of Uganda.
---

See and hold some of Uganda's most well known reptiles at the Uganda Reptile Village in Entebbe.
---
---

Spend a couple of hours at Entebbe's beautiful botanic gardens established in 1901 close to Lake Victoria.
---

Take a boat trip or fly to Ngamba Island close to Entebbe with its chimpanzee sanctuary and interact with these orphans.
---
---
More Tourist attractions in Entebbe



On this page we provide a guide to the best tourist attractions in Entebbe however there's plenty more to see and do. We provide a guide to these other activities here.
---

A Google satellite map of Entebbe showing the city on the Lake Victoria Peninsula and it's tourist attractions. Zoom in to explore places of interest!
---
---