Entebbe Guide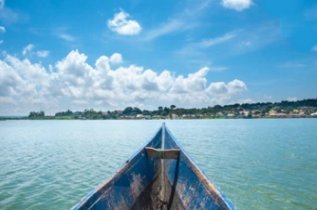 Before independence in 1962 Entebbe was the capital of Uganda before that status was transferred to Kampala. In our opinion it's a much nicer place to stay and explore than Kampala, being much more relaxed, has wide open spaces with lawns and Lake Victoria is normally close enough to walk to wherever you are staying. With a population of some 70,000, it rose to prominence in the late 19th Century when it was used as a base by the British Colonial Commissioner, Sir Gerald Portal, having previously been where the Buganda Chief sat to adjudicate cases (in fact the word "Entebbe" comes from the Lugandan word for "seat".)

Entebbe is probably not somewhere where you would want to stay for more than a few days before starting your adventure in Uganda but, normally after a long flight, it's a good place to wile away a few days either on arrival or before you depart from Uganda. Victoria Shopping Mall has a reasonable range of shops and is very modern ~ it even has a KFC for those missing western style food (already?) and there are some beaches which you can either walk to or get a cheap ride to and from. Another new shopping mall is under construction. Given that you can't purchase Ugandan Shillings before arrival, we recommend you buy a limited amount of Ugandan money on arrival at the airport but then advantage of better rates in Entebbe itself the following day.

Places to see and visit include an impressive zoo where animals wander in large enclosures (though take care of the wandering monkeys who are infected with rabies), the reptile house where the non-squeamish can handle snakes, the State House (the official residence of the President of Uganda) and the historical site in Kigungu where the first missionaries arrived. There are also boat rides on Lake Victoria available as well as well as East Africa's oldest golf course.
---

A guide to the main tourist attractions in and around Entebbe for when you arrive in Uganda before you head out into the country.
---

A guide to the best things to do while in Entebbe from visiting historical sites to golf courses and the Presidential State building.
---
---

After you've landed at Entebbe Airport, you'll be looking for cosy and relaxing affordable accommodation in the city.
---

Useful information about landing at Entebbe Airport in Uganda including travel advice and other tips for the traveller.
---
---

A Google satellite map of Entebbe showing the city on the Lake Victoria Peninsula and it's tourist attractions. Zoom in to explore places of interest!
---
---