Lake Bunyonyi Attractions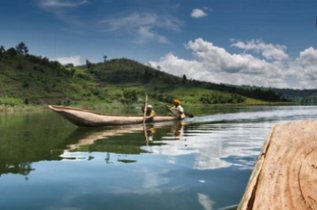 Lake Bunyonyi in south-western Uganda is a favourite for tourists to visit whilst in the area and many travel from far and wide as it really is a place of great beauty and boasts some well presented places to stay from hotels (or resorts as they are known locally) to camping sites and similar facilities.

There are also some great places to eat that serve western food, although local food can be purchased much cheaper within the small Lake Bunyonyi community which also offers some volunteering opportunities. On this page we share some of the main tourist attractions which inevitably focus on the islands within Lake Bunyonyi itself.
---

One of the most popular islands on Lake Bunyonyi with a resort and option to eat or stop over by staying at Lake Bunyonyi Eco Resort surrounded by wildlife!
---

A video and details about Bushara Island on Lake Bunyonyi, an excellent place to stay for those who enjoy bird watching as it's a natural haven for birds not least because of its peace and tranquility. Also information about the accommodation that's available there.
---
---

Punishment Island on Lake Bunyonyi is where unmarried pregnant girls were abandoned to their fate. You can visit the island and read about its traditions here.
---

Kabale is often seen as a gateway to Bwindi Impenetrable National Park and Mahinga Gorilla National Park as well as close to the border with Rwanda as well as the beautiful Lake Bunyonyi.
---
---