Semuliki National Park

Semuliki National Park is slightly different from other national parks in Uganda as it doesn't boast much animal wildlife, though there is some, however its main attraction is its birds and hot springs. The park is next to the Semuliki and Lamia rivers and is located on Uganda's border with the Democratic Republic of the Congo with Lake Albert to the park's north and the stunning Rwenzori Mountains to its south-east. Located some 150 miles from Kampala and covering an area of 220sq kms, the park is home to 442 bird species, 53 mammals and look away if you are squeamish ~ Goliath and Rhinoceros beetles some of which measure four inches long! Other attractions are a Pygmy village and the hot springs at nearby Sempaya located in the Semliki River Valley close to Bdibugyo town best known for having a hot water geyser shooting up from an eight-meter wide hole ~ the largest of its kind in Uganda.

Whilst in Semuliki National Park, Mungilo Waterfall is worth a visit where you can fish, swim and bird watch. The park, one of Uganda's newest having been designated as recently as 1993, is managed by the Ugandan Wildlife Authority and is home to around 100 Batwa people (see the ' batwa Experience' below) who rely on the forest for food, herbal medicines and construction materials. Early after its designation these people who had inhabited the area for centuries were initially not involved in planning leading to tensions however more recently have been engaged in developments. Semuliki National Park is about a two hour drive from Fort Portal on the Kampala-Mubende-Fort Portal road and can also be reached using the Kampala-Mbarara-Kasese-Fort Portal route. If travelling from Kampala, we suggest you allow approximately six hours for the journey.

Accommodation can be found in Fort Portal, however there are also lodges within the park itself notably Semuliki Safari Lodge and Ntoroko Game Lodge and Camp. The park is open through-out the year, Monday to Saturday 7.30am til 7.30pm (daylight hours) however navigating the park during rainy season can be difficult even when travelling using a four by four. Travellers will be aware that usual seasons are changing in Uganda however generally December to April is hot and dry, April to June sees a rainy season, July through to September is again dry before heavy rains return in October and November.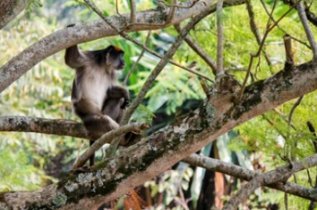 If you have further information about Semuliki National Park whether it be reviews, places of interest or accommodation contact us using our contact form. Now check out the main tourist attractions in the park in the video below.
---

Step back in time to see how the Batwa lived in the Bwindi, one of the planet's most beautiful jungles, when you visit the Batwa Experience.
---

Semuliki National Park is one of a number of National Parks in Western Uganda. For a guide to the other main parks, complete with LIVE webcams, check out our Western Uganda National parks profile page.
---
---

One of the most popular Western Ugandan towns with tourists offering so much to see and do from a vibrant nightlife to the town's tourist attractions which range from caves and waterfalls to Royal Palaces.
---
---