Things to do in Fort Portal

If travelling to Uganda, Fort Portal is well worth a visit as there are many things to do there. The journey from Kampala takes around four hours and there is a reliable bus service along the well tarmaced road. The town borders Uganda's equatorial Kibale rainforest and is well known for its breathtaking scenery and is within distance of the stunning Rwenzori Mountains.

Amongst things to do in Fort Portal are visits to the Amabere Caves, the Tooro Botanical Gardens, a Royal Palace and tombs as well as guided walks taking in a crater lakes with their its bubbling source and, of course, visiting Fort Portal's famous tea plantations.
---

The Tooro Botanical Gardens were established in Fort Portal to help conserve trees and other plant life that was at risk or facing extinction in Western Uganda. Today the gardens are flourishing and cover a 100 acre site and not only concentrates on conservation but also scientific research and education.
---

The Tooro Royal Palace is home to the Omukama, king of one of the four traditional kingdoms of Uganda. Today the Tooro Royal palace is seen as an integral part of the Tooro way of life and is used for state functions and well as revenue generating purposes.
---
---

The caves, such as they are, are best experienced as part of an extended walk in the area which would also take in the waterfall at Amabere as well as the three local crater lakes. You can stand behind the waterfall and even swim while surrounded by colobus monkeys!
---

About an hour from Fort Portal, the Bigodi Wetlands Sanctuary borders Kibale National Park, which has the highest density of primate life in the world in its forests, and features eight primate species & more.
---
Tea Plantations



The tea plantations are at the heart of Fort Portal's economy and factory visits can be arranged.
That's It!
---
---
Royal Tombs



The Karambi Royal Tombs are the final resting place of Omukama Kasagama & Rukidi III on the Kasese Road.
That's It!
---
Toro Golf Club



Toro Golf Club, is located close to the town centre on its eastern side and has 11 holes over seven acres.
That's It!
---
Guided Walks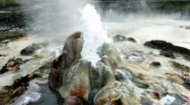 Guided walks are available locally and last about three hours taking in a crater lake and its bubbling source.
That's It!
---
---

A Google satellite map of Fort Portal showing the town and it's tourist attractions. Zoom in to explore places of interest!
---
More Things to do in Fort Portal



A guide to more things to do in and around the popular tourist destination town of Fort Portal in Western Uganda.
---
---