Things to do in Kabale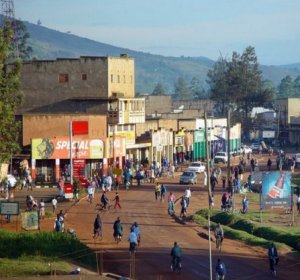 Whilst there are some very impressive buildings looking down imperiously on Kabale town centre, there aren't many things to do in Kabale itself apart from shop, eat, sleep and get slightly overwhelmed by the frenetic activity of the town as people bustle around going about their daily business.

Probably the only thing of note is nearby Lake Bunyonyi and if you fancy a hike check out the ancient Nyakagera Cave. Many of the things to do in Kabale are a bit further afield however it's a good, if cold and wet, place to base yourself when undertaking these activities, the best of which we showcase below. If you know of other things to do for tourists in Kabale please contact us so we can add the details to this online guide.
---

Nyakagyera Cave is a forgotten tourist attraction nestling high on Kabaraga Hill close to Kabale.
---
Ihimba Hot Springs



5 miles south of Kabale, the springs were valued by the local Bakiga people for their healing properties.
That's It!
---
---

A nine-hole golf course dating from the 1930s complete with bar and swimming pool and wildlife!
---
Mountain Hiking



Mountain hiking is one of the most popular things to do in Kabale especially around the lake.
That's It!
---
Cultural Sites



There are a number of cultural sites reflecting tribal wars between the Buganda and Bunyoro Kingdoms.
That's It!
---
---

A Google satellite map of Kabale showing the town and it's tourist attractions. Zoom in to explore places of interest and find things to do on the town!
---

Although there's a not a great deal to do in Kabale itself, explore the main tourist attractions around the area in pictures, video and information.
---
---