Nyakagyera Cave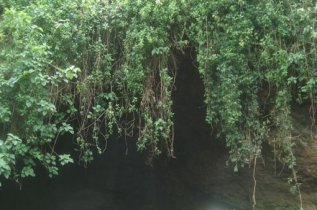 Just under nine miles from Kabale as you climb the hills towards Kabaraga, which is the highest point that overlooks Kabale, you would stumble across the Nyakagyera Cave. Hardly a tourist attraction because few, if any tourists actually make the tortuous journey over rough, reclaimed wetland areas where no vehicle, not even a boda boda can pass. In fact few residents of Kabale even know the cave exists, nor do they care much! Measuring 62 feet deep, 33 feet wide and 20 feet tall, Nyakagyera Cave's past has never been written down, merely stories float down the ages from the mists of time.

The stone cave was allegedly inhabited by early man from where stones were thrown to kill animals lower down the slopes and the dead animals would be taken to the cave for feasting. The cave was also used as a place of safety where clan leaders could rest safely and plot against incomers such as those from present day Rwanda who attempted to spread into the area. The Batwa (pygmies) eventually took control of the cave, however they were later forced from the recluse by the Bakiga ("people of the mountains") who now populate the area. The Batwa were forced into the forests where today they are better known as the pygmy people. Today the cave is only home to bats, birds and its entrance is masked by overgrown shrubs and trees.
---

Fin dout more about those who originally lived in the Nyakagyera Cave when you step back in time to see how the Batwa lived in the Bwindi when you visit the Batwa Experience.
---
---

Kabale is often seen as a gateway to Bwindi Impenetrable National Park and Mahinga Gorilla National Park as well as close to the border with Rwanda and the beautiful Lake Bunyonyi.
---
---