Things to do in Ntungamo

To be honest apart from sleeping, eating, drinking and shopping there aren't many things to do in tghe town of Ntungamo itself, however there is plenty to keep you occupied if you are prepared to travel a few miles. The villages of Itojo and Ruhanga where there are some awesome mountain walks are within a few miles and most tourists in Ntungamo pop along to see the legendary Karegyeya Rock whose history encompasses local traditions of the ancient Bachwezi. If hot why not get a bit hotter by visiting the Kitagata or Mulago (meaning 'hospital') hot springs which are believed locally to have healing powers and find out here a bit more about Ntungamo's history and some facts about the town.

Here are some strange, interesting and little known facts about Ntungamo! (1) The most recent figures available show that Ntungamo District has a population of 455,799 made up of 216,999 males and 238,800 females. (2) It is claimed, without any independent verification, that the town of Ntungamo has the most petrol stations per head of population than any other town on Earth. (3) >Ntungamo is 221 miles from the capital of Uganda, Kampala but just 79 miles from the capital of Rwanda, Kigali. It is also 6286 miles from the North Pole, 6164 miles from the South Pole and 61 miles from the Equator. (4) The President of Uganda, Yoweri Museveni, was born in Ntungamo on 15th August 1945 as was his wife, the First Lady of Uganda, Janet Kataaha Museveni (née Kainembabazi), on 24th June 1948. The President and his wife maintain a home in Ntungamo just off the road to Runkungiri, although it is barely noticeable. The First Lady is also the elected Member of Parliament representing Ruhaama County in Ntungamo District. (5) Other well-known "children" of Ntungamo include Maj Gen Mugisha Muntu, the president of Forum for Democratic Change and Justice Richard Buteera who is currently a justice of High Court of Uganda.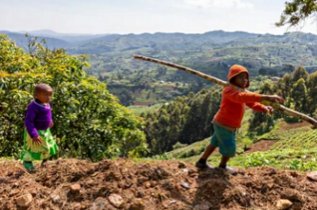 (6) In November 2010 President Museveni released a song and video called "U Want Another Rap?" as part of his re-election campaign. (7) If you lived in the UK and climbed all the way up to the very highest mountain on the island (Ben Nevis), then put up a ladder and climbed a further 200ft, you would be at the the same height above sea level as Ntungamo! (8) There are plans to build a university in Ntungamo. This was due to start in 2012. No work has actually started as of today......... (9) Ntungamo District covers an area of 2,056 sq km making it slightly smaller than the countries of Samoa (2,831 sq km) and Luxemburg (2,586 sq km) but larger than Mauritius at 2,040 sq km, Guadeloupe (in the Caribbean) at 1,705 sq km, New York City at 1,214 sq km, The Faroe Islands at 1,393 sq km, Sao Tome and Principe at 0.964 sq km. Ntungamo District also dwarfs the Vatican which covers an area of just 0.44 sq km!

(10) The closest international airport to Ntungamo is Goma International Airport in Congo-Kinshasa at 61.5miles distance followed by Kigali International Airport in Rwanda at 82.3 miles. By contrast Entebbe Airport is 203.6 miles away. The closest airport for internal fights both civilian and military is at Mbarara Huma Airport, 10 miles north-west of Mbarara whilst a further civilian airport with a non-paved runway can be found three miles from Kabale on the Kabale-Kisoro Road.
---

The Kitagata or Mulago (meaning 'hospital') Hot Springs close to Ntungamo are believed locally to have healing powers and are a great place to relax.
---

The Karegyeya Rock, known locally as Eibare rya Karegyeya, can be found just over a mile outside of Ntungamo and encompasses local traditions of the ancient Bachwezi.
---
---

The spectacular falls at Kisiizi find their source in the lakes in the south of Uganda on the Kyabamba River, before travelling through fertile valleys then falling some sixty feet at Kisiizi causing a spray that captures the hot Ugandan sun creating beautiful rainbows that cascade like fire over rocky pools.
---

A trading area rather than a town located between Mbarara and Ntungamo with a district hospital which serves the area. Itojo is a useful place to stop at to get supplies.
---

When you visit the Nshenyi Cultural Village you will experience the traditional lifestyle of Banyankole people.
---
---