Ntungamo Guide

This page shares information about the town of Ntungamo in south-west Uganda en route from the capital of Kampala towards the Rwanda border. The town is perhaps best known as a staging post for tourists and travellers on their way to gorilla trekking in Bwindi Impenetrable National Park or on safari to Queen Elizabeth National Park. Few towns in Uganda are "oldy worldy" and Ntungamo is no exception. Very much an urban utility town, it nevertheless is a great source of pretty much anything you may need whilst in Uganda from good food, internet cafes, bars, transport, accommodation and a soon to be outdoor swimming pool as well as a planned university (although these have been promised for many years with no progress!) Ntungamo is both a town in south-west Uganda and the headquarters of Ntungamo District that was formed in 1993 as part of a decentralization policy adopted in 1992 that sought to establish a system of governance in Uganda underpinned by strong local governments.

Today Ntungamo district covers an area of some 843 square miles and with an estimated population of 542,810 (2021) with the town itself being home to some 29,000 people. Ntungamo district is comprised of the 15 subcounties of Bwongyera, Ihunga, Itojo, Kayonza, Kibatsi, Ngoma, Ntungamo, Ntungamo Municipality, Nyabihoko, Nyakyera, Rubaare, Rugarama, Ruhaama, Rukoni and Rweikiniro and 97 parishes. The town of Ntungamo itself has six of these parishes namely Central, Kahunga Ward, Kikoni, Kyamate Ward, Muko and Park with the Ntungamo subcounty (as opposed to Ntungamo municipality subcounty) comprising the six parishes of Butare, Kahunga, Kikoni, Nyaburiza, Nyarubare and Ruhoko. Ntungamo can be found some 41 miles south-west of Mbarara on the main road to Kabale and is bordered by Mbarara District to its north-east, Isingiro District to its east, Sheema Distict to its north, Mitooma District to its north-west, Rukungiri District to its west and Kabale District to its south-west with the republics of Rwanda and Tanzania to its south.

Ntungamo (featured in the 'Lighthouse Project' novel, below) has a agricultural based economy with most of its inhabitants being subsistence farmers growing mainly bananas, beans, maize, groundnuts, millet and sorghum although some specialise in coffee growing, livestock ~ primarily cattle (with local Ankole cattle being characterised by their long horns), goats and sheep ~ and matooke production together with coffee bean sales made to local traders who ship the beans to South America where they are processed then taken to Europe for commercial packing and distribution, then many end up back in Ntungamo for sale in local shops!

Others are engaged in trading, small manufacturing and in public and private sector employment servicing the local administration. Trades people in Ntungamo district are also engaged in fishing mainly performed on Lake Nyabihoko although mud fish capture is common in more localised swampy areas, production of local Waragi ~ peeled ripe banana juice mixed with roasted and ground sorghum to perform a brew within a week; iron smelting by traditional local blacksmiths known as the "Abaheesi", some hunting and pottery making along with basket, drum and jewellery making, and of course, traditional brick making by placing wet, clayish soil into an Akatiba (wooden box) to make bricks, which, when dried, are burnt in fire stacks to harden them ready for the construction of homes and enclosures.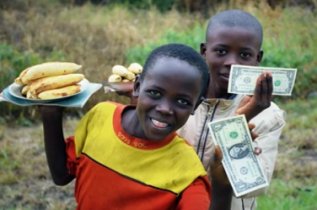 Ntungamo is a bustling, pulsating town with scores of shops, boda boda motorcyclists weaving in and out of the shoppers and traders touting for business, music blasting from every corner and its fair share of arguments, raised voices, laughter, power cuts, litter and often under repaired housing in the town centre itself whilst, as you travel outwards from its three main streets, there are leafy, grassy areas amongst the rolling hills. Set at the intersection of the route from Kampala to Rwanda with the road to Queen Elizabeth National Park, Ntungamo a natural stopping off point and trading community.
---

An online guide to the main tourist attraction in and around the busy trading town of Ntungamo in Western Uganda on the Kampala to Kabale Road.
---

A guide to some of the best things to do in and around Ntungamo from exploring local lakes to walks and cultural museums.
---
---

A guide to the best accommodation in and around the town of Ntungamo in Western Uganda from hotels, lodgings to homestays.
---

A guide to some of the best places to eat when travelling through or staying in the town of Ntungamo from restaurants to cafes.
---
---

An overview of the history of Ntungamo from ancient times to the colonial period and present day including details of its role within the Nkore Kingdom.
---

A Google satellite map of Ntungamo showing the town and it's tourist attractions. Zoom in to explore places of interest!
---

The Lighthouse Project is the only novel set in Ntungamo, Western Uganda, and explores friendships between cultures as a British family attempt to establish a volunteer project in the area while detailing some of the places to visit in and around the town of Ntungamo itself. Available on Amazon in paperback and digital Kindle formats.
---
---